PORTAGE, MI – October 25, 2014 – E.S.C.A.P.E. Fire & Safety, WOOD TV 8, WOTV 4, AM 590 WKZO, 106.5 WVFM and WNWN 98.5 FM invited families to learn how to be fire safe today at the 11th Annual Family Fire Safety Day from 10am – 2pm at Lowe's in Portage.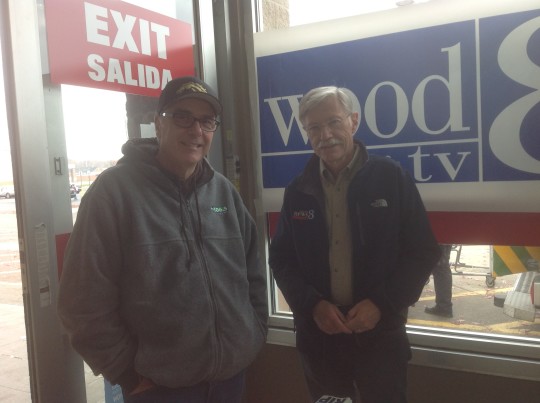 The day included a variety of activities. For starters, there were free 9-volt and AA battery and smoke alarm give-a-ways (while they lasted).  Plus, children and families had the chance to meet WVFM's Ken Lanphear and  WOOD TV's Bill Steffen as well as Jake The Fire Safety Dog from E.S.C.A.P.E.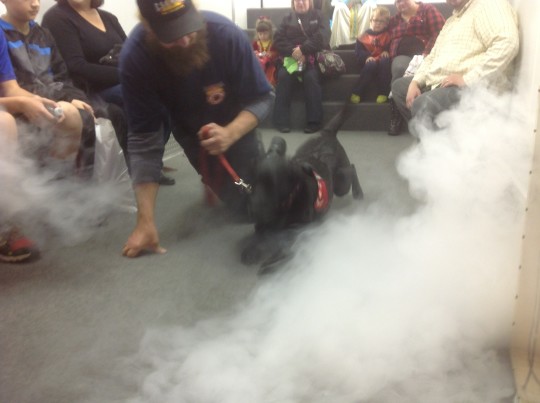 Jake guided families as they crawled under the smoke inside the E.S.C.A.P.E. fire safety demonstration trailer and went outside to the designated meeting place.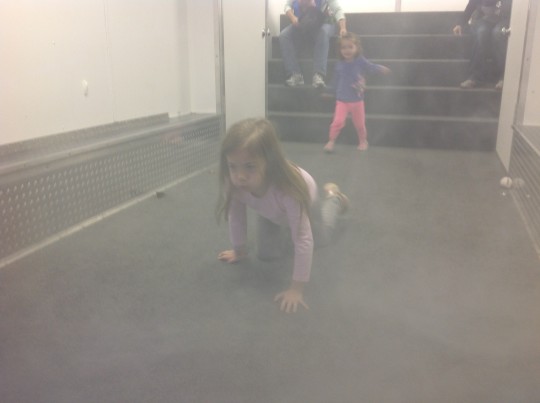 In addition, a Life EMS Ambulance was on location and paramedics distributed safety information and a Portage fire engine was also available for a tour that offered the opportunity to ask the crew about their equipment.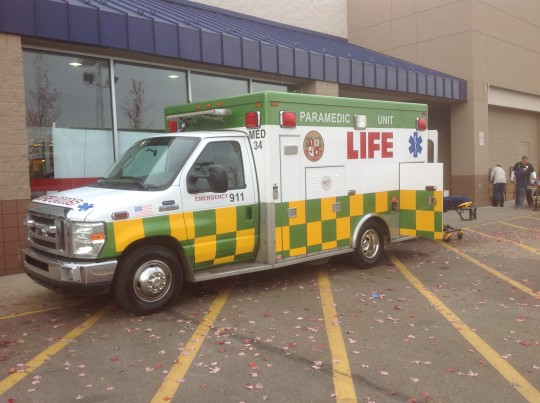 Jake the Fire Safety Dog invited his friend, Dr. Seely Rotigel, to join us this year. She promoted health and safety for Jake and his four legged friends.
Coffee Rescue was on location serving refreshments again this year.
There was even a Halloween costume contest for kids with prizes at 11am.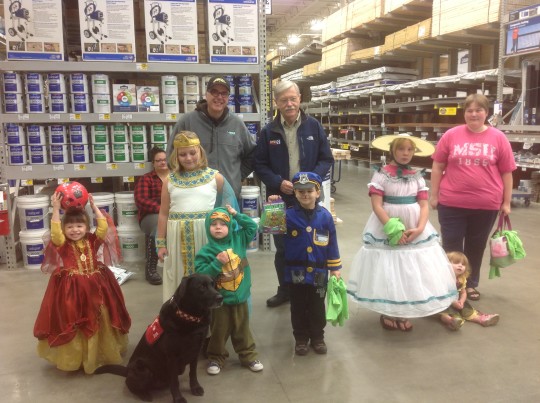 Adults even had the opportunity to enter to win free fire safety items.
"2013 ended with the worst civilian fire fatality rate not seen since 1999 throughout Michigan," said Firefighter Michael McLeieer, President and Founder of E.S.C.A.P.E. "Most of the fatalities, especially those here in West Michigan occurred in homes without working smoke alarms.  It's through events like the Family Fire Safety Day that we can connect the community and first responders together to educate and empower families to plan, prepare and practice fire safety all throughout the year," said McLeieer.
E.S.C.A.P.E. would like to thank our generous sponsors and supporters of this annual event:
Lowe's in Portage
WOOD TV 8
WOTV 4
WKZO AM 590
WVFM 106.5
WNWN 98.5
Liberty Mutual Insurance
Papa Johns – South Westnedge (Portage)
Life EMS
Portage Department of Public Safety – Fire Division
EDub Designs
Post Community Credit Union
Roger and Joy Kamphius
To view the photo album from the 11th Annual Family Fire Safety Day, visit:
https://www.facebook.com/media/set/?set=a.881251331885780.1073741868.126934187317502&type=1
For more information about E.S.C.A.P.E. and other fire safety tips, visit http://www.escapeinc.org or http://www.jakethefiredog.org.