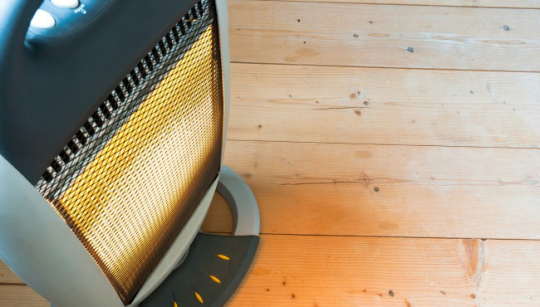 Winter is just beginning and people are at greater risk for home fires during this time of year. In 2015, there were 103 home fire deaths throughout Michigan. A large number of those fatalities occurred in West Michigan. Since January 1, 2016, at least six people have already died in home fires in Michigan.
We have already experienced winter storms that left homes and businesses without electricity, leaving us to find alternative ways to heat our homes. Whenever we use alternative heating methods we increase the risk of having a home fire or exposing ourselves to dangerous carbon monoxide.
Portable Heaters Need Space
Space heaters cause one-third of home heating fires and four out of five home heating fire deaths. Protect your family: if you're heating your home with a portable heater, fireplace, or woodstove this winter, take a few moments to review these safety tips.
Keep anything that can burn, such as bedding, clothing and curtains at least three feet away from a fireplace, wood stove, or space heater.
Make sure the heater has an automatic shut-off, so if it tips over, it shuts off.
Turn heaters off when you go to bed or leave the room.
Plug portable heaters directly into outlets and never into an extension cord or power strip.
Only use portable heaters from a recognized testing laboratory.
Carbon Monoxide: The Invisible Killer
On average, more than 150 people die each year from carbon monoxide poisoning occurring from products and equipment in their home. Carbon Monoxide (CO) is odorless, colorless, and otherwise undetectable to the human senses and people may not know that they are being exposed.
The key to protecting your family is to be aware of the signs and symptoms of carbon monoxide poisoning. Learn more about the dangers of carbon monoxide and ways you can remain safe.
CO alarms should be installed in a central location outside each sleeping area and on every level of the home and in other locations where required by applicable laws, codes or standards.
Choose a CO alarm that has the label of a recognized testing laboratory.
Test the CO alarm monthly and replace alarms that are over five years old. Newer alarms last as long as ten years.
If the CO alarm sounds, immediately move everyone to a fresh air location outdoors.  Make sure everyone inside the home is accounted for outside. Call 911 from a safe location once outside.
During and after a snowstorm, make sure vents for the dryer, furnace, stove, and fireplace are clear of snow and ice build-up.
During a power outage, a generator should be used in a well-ventilated location outdoors away from windows, doors, and vent openings.
Have your heating system serviced regularly by a licensed professional.
If you need to warm a vehicle, remove it from the garage immediately after starting it. Do not run a vehicle or other fueled engine or motor indoors, even if garage doors are open. Make sure the exhaust pipe of a running vehicle is not covered with snow.
Free Resources
Operation Save A Life is a partnership between WOTV 4 Women, Kidde Fire Safety, West Michigan fire departments and E.S.C.A.P.E. Fire Safety. The goal of this program is to provide free smoke and carbon monoxide alarms to area fire departments where they will be installed in high risk homes. For more information about Operation Save A Life, contact your local fire department or e-mail escape@wotv4women.com.
E.S.C.A.P.E. Fire Safety reminds you by using common sense and following these simple yet important tips, everyone in your home will keep warm and safe this winter season Where You Live!