Dozens of firefighters from West Michigan joined Daybreak on WOOD TV 8 on Friday for Fire Prevention Week.
Michigan ranks in the top five states in the U.S. for the most home fire deaths.
This year, home fire deaths in West Michigan are up 44-percent from 2014.
In an effort to prevent fire-related deaths, WOTV 4 Women, Kidde and E.S.C.A.P.E. Fire Safety have partnered together to create Operation Save a Life.
>>LIST: Smoke alarm installation programs across West Michigan
The free program is designed to make sure people in need of smoke detectors and carbon monoxide detectors not only get them, but also have them installed.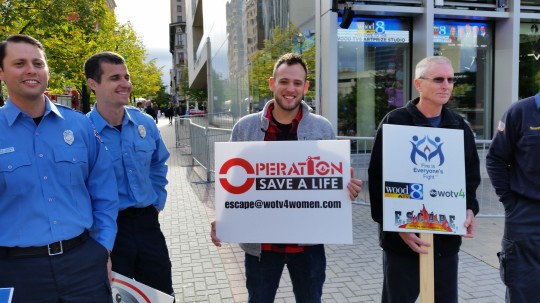 During Fire Prevention Week, which runs from Oct. 4-10, firefighters have been visiting schools and the community to stress the importance of fire safety plans and testing smoke alarms. Alarms more than 10 years old need to be replaced.